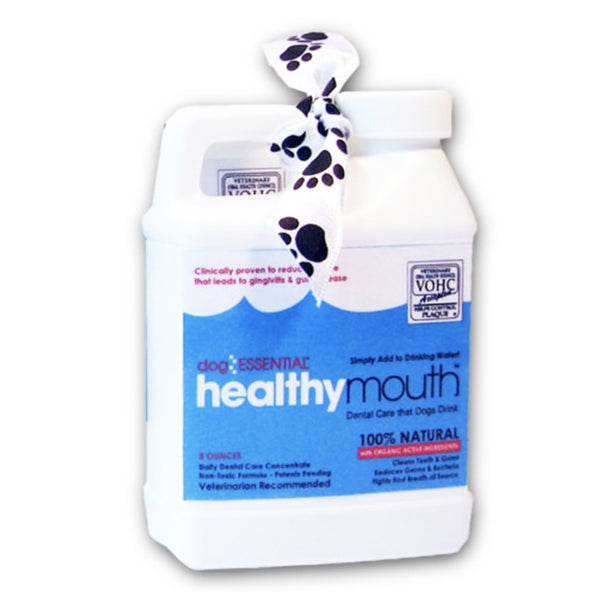 Veterinary Dental Healthy Mouth Water Additive for Dogs and Cats
VOHC approved and proven to be one of the most effective products on the market for plaque reduction in dogs and cats.
NOTE: All out of country tax & duty fees will be billed directly to purchaser upon delivery.
---
---
What people are saying about us...
"I can't thank Dr. Beckman enough for his mentorship and devotion to developing our dentistry skills. I never thought I'd be able to do the procedures that I have, and in a remote community, it's a joy to see my patients benefit from that."
Nicole Baran, DVM
Sudbury Regional Cat Hospital (Owner), Ontario, Canada
"Hey Brett, Your passion for teaching veterinary dentistry, and the lessons I learned from you, gave me the knowledge and confidence to educate and provide my clients the best oral care for their pets. Now, as an educator, my clients are DVM students, and everyday I get to pass on lessons I learned from you."
Greg Wolfus, DVM
Tufts University
"Attending Dr. Beckman's canine dental wet lab was the single most valuable CE I had experienced in my then 10 years as a veterinarian. I was already doing fairly good dentistry, was using dental x-rays and had good technicians, but Dr. Beckman taught me how to utilize those tools to be a better practitioner and to be more profitable."
Dr. Geoffrey Adams
Pasco Animal Hospital, New Port Richey, Florida
"Dr. Beckman's Canine and Feline Dentistry seminars include relevant, practical and engaging lectures, interspersed with hands-on experience performing full-mouth extractions in dogs and cats. Dr. Beckman's team is friendly, fun, and extremely knowledgeable. Annie Mills LVT, VTS (Dentistry) does a stellar job organizing the events, making for a smooth and enjoyable learning experience."
Erin V. Abrahams, DVM
Angell Animal Medical, Center Boston, MA

"Dr. Beckman, the quizzes/ case studies/ your image library and the presentations have been simply wonderful. I just wanted to thank you and let you know you are making a big difference for me and many other veterinarians and their patients."
Randall S. Verink, DVM
Casper Animal Medical Center, Casper, Wyoming
"Dear Dr. Beckman, You are filling a gaping hole in the veterinary field for those of us who want to be GPs and practice high standard dentistry by providing the Veterinary Dentistry Academy. This is probably the best CE money I have ever spent! You really have condensed and streamlined years of my scattered study into such a compact, user friendly program."
Lisa Goldburg, DVM
Boca Raton Veterinary Clinic
"Dr. Beckman thanks again for an amazing conference in Indianapolis! We have been doing X-rays in lateral recumbency and they were hit or miss if they would turn out. Using your technique my tech took the full mouth X-ray series one time only and it was perfect. So excited!"
Lauren Tassone, DVM
Prairie State Veterinary Clinic, Orland Park, IL
"Hi Brett, I have attended many lectures and labs and the AVDC forum and consider myself an experienced general practitioner in the field of dentistry. I am now finished the extraction webinar. I would like to tell you that your webinars are outstanding. They have refreshed my skills in areas that needed refreshing and they have helped me improve my extraction skills and flap making in ways I didn't think possible. Thank-you. Every veterinarian should be required to take these webinars before they practice dentistry."
Ron Altman, DVM
Mountain Parks Veterinary Hospital, Evergreen, Colorado